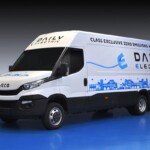 After the resounding success of the New Daily, winner of the prestigious International Van of the Year 2015 award, Iveco presents a world-exclusive: the New Daily Electric. The vehicle has been unveiled at Ecomondo, a trade fair dedicated to the green and circular economy, which runs from 3-6 November at Rimini Fiera.
The Iveco New Daily Electric is a 100 per cent electric, zero-emissions vehicle which guarantees maximum  sustainability,  offers  superior  levels  of  reliability  and  is  perfectly  suited  for  urban missions, such as door-to-door distribution and passenger transport. Continue reading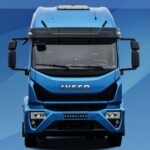 Even more attractive, eco-sustainable, efficient and manoeuvrable. Cities love the new Eurocargo: the truck which respects people and the environment in which it works, even on the busy streets of a major city. The new Eurocargo – the face changes but the essentials remain: its functionality and design are new, but it is the same robust, reliable and versatile vehicle already chosen by half a million customers in Europe, Africa, the Middle East, Australia and Latin America. A business partner – and a friend – for everyone.