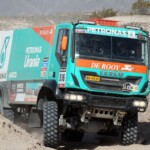 Iveco and FPT Industrial to feature at Dakar 2015
Team PETRONAS De Rooy Iveco announces participation in the next edition of the world's most famous off-road rally. Three Iveco vehicles are set to compete for a place on the podium.
Together again, ready to fight for a place on the podium at the 2015 Dakar: Iveco and FPT Industrial will once again feature at the world's biggest rally – the Dakar – as official sponsors of Team PETRONAS De Rooy Iveco. The news was announced today at a press conference held at CNH Industrial Village in Turin, Italy. International press attended the event where the new Team was presented. Continue reading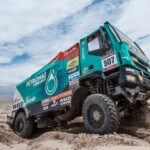 Baja Aragón 2013, that will race mainly along Teruel´s province, will have almost 1.000 kilometers.
The simplified route of Baja Aragon 2013, that celebrates this year its 30th edition, has already been published on the website, www.bajaaragon.com, to allow all the fans and attendants to make their plans for the racing weekend.